View the collections designed & stitched just for you!
NEW! Birthday Badge Cards
🎉 Personalised number rosette badges and cards.
🎁 Handmade badge in a choice of colours.
🎂 Add a little message to the card to make it extra special.

SHOP NOW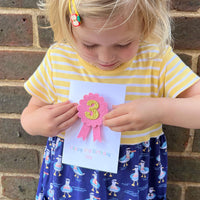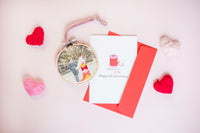 Anniversary Cards & Gifts
Anniversary cards for every year of marriage, based on the traditional gifts given each year.
SHOP NOW
As seen on Kirstie's Handmade Christmas!
Back in October I travelled to Devon to be part of Kirstie Allsopp's latests series of Kirstie's Handmade Christmas. I was part of the wreath competition where I made this gingerbread family wreath.
Meet Miss Shelly Designs
Miss Shelly Designs is a Hertfordshire textile artist. The Miss Shelly Design's range includes handmade greeting's cards, embroidered portraits and artwork but Miss Shelly is best known for her hand crafted personalised Christmas tree decorations.
See More
Kind words from my customers
 I ordered two of these last year to go in our family Xmas eve box. My boys loved them!!

Sarah - LITTLE ELF PERSONALISED DECORATION
We have three of these. One for each of our boys. They're so cute and love the little name tags on them. They look forward to hanging these on our tree each year. Amazing handmade quality and have stood the tests of time and boys.

Jody - PERSONALISED DINOSAUR DECORATION
Super cute little card, exactly what I wanted. Quick dispatch and delivery too.

Lyndsey - KOALA BIRTHDAY CARD